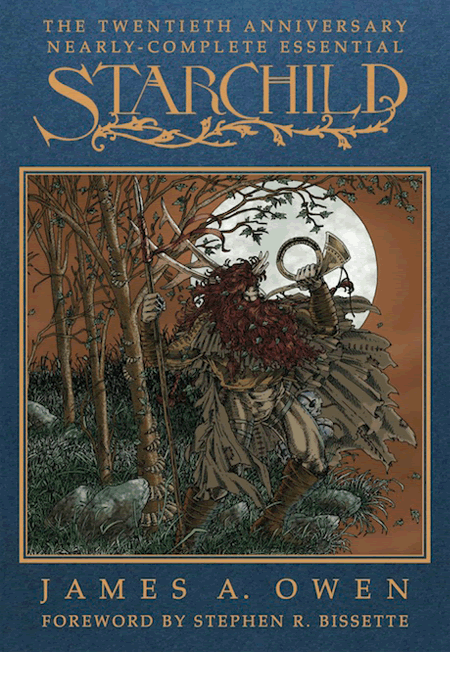 The Twentieth Anniversary Nearly Complete Essential Starchild by James A. Owen; 2014; $45.00; 704 pages; Coppervale Press, Taylor, AZ; Kickstarter Reward; 12/18/14-12/20/14
Twenty years ago was an even younger man who self published a comic book called Starchild, over the years it has progressed in fits.  Now he has gathered together almost everything pertaining to Starchild and published them in this awesome slip-covered hardback.  There is an awesome story that is part graphic novel and part illustrated novel.  Every one hundred years storytellers gather together and tell storytellers and the one who wears the mantle may restart the world, this is the story of a quest for the mantle and a family and their relationship to the mantle.  I just realized how difficult it is to synthesize the story into a capsule, let's just say that it is an awesome story.  Not to mention the alien raised by earth parents and becomes a sun god, the kingdom erected by a mouse or the retired soldier Nicodemus Fury.
Did I enjoy it?  Let's just say that I would James' to do list because I think he could make it exciting.  I have read his Chronicles of the Imaginarium Geographica, Drawing out the Dragons and Treasures of the Caribbean and am looking forward to the Fools' Hollows novels, The Barbizon Diaries and The Grand Design.
Grade-A
What is with the title of the review?  I have backed several projects on Kickstarter and this is one of the most awesome rewards that I have received as a backer.