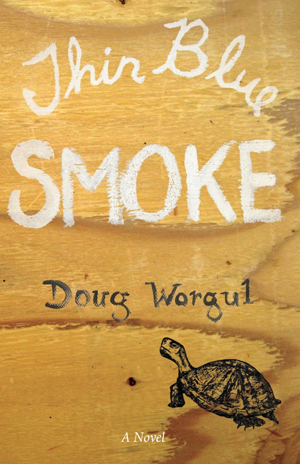 Thin Blue Smoke by Doug Worgul; 2012; $14.95; 457 pages; Burnside Books, Golden, CO.; 978-0-9852953-2-5; gift from Jordan Green of Burnside Books; 10/7/15-10/14/15
This book has been sitting on my to be read shelf for three years since Jordan gave it to me.  It is the story of LaVerne Williams, a former KC Athletics player, who runs a bbq joint in Kansas City.  It is the story his life and the lives of those around him, a couple of young men from abusive homes, his family, a real estate developer and his son, a seminary professor and the women in their lives.  It is a non linear story but that works here as we get each character's backstory in bits and pieces.  It is a story that is hard to describe but it is awesome and the best bbq around.  I came to really like it.  I felt at first that the ending was anti climatic, but that is how life sometimes feels.
Grade-A
Did I enjoy it?  The structure of the story was unusual but it ultimately worked.  I enjoyed getting to know the characters.
What is with the title of the review?  The four main ingredients of the story are barbecue, baseball, blues and the Bible.